The Chatbot Journey:
Making Intelligent Digital Assistants Integral Members of the Team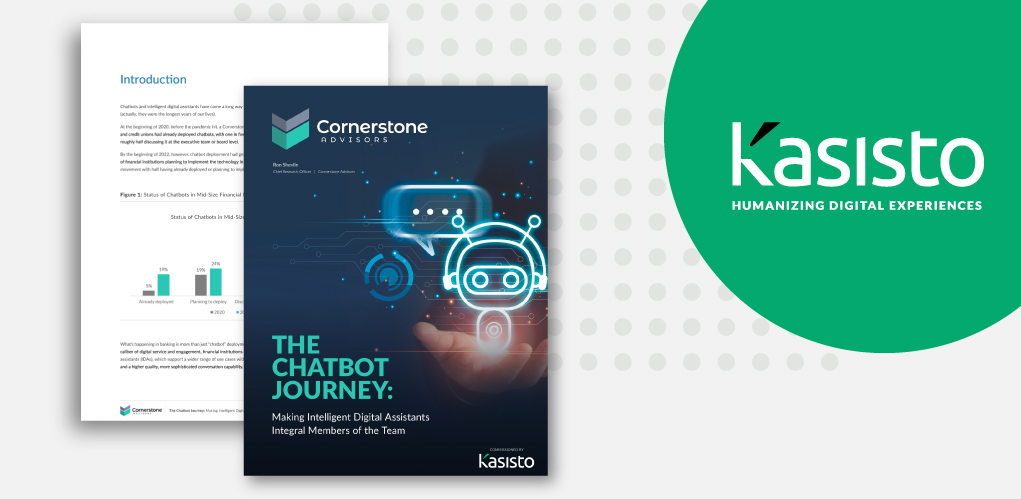 Chatbots and intelligent digital assistants have come a long way in banking in just a few short years

(actually, they were the longest years of our lives)
The phases of persuasion and speculation about the value of digital assistants are over. Financial institutions now NEED to understand and ensure the successful deployment of their digital assistant.
Ron Shevlin, from Cornerstone Advisors, interviewed 10 banks and credit unions that have already begun their digital assistant journeys. Ron has distilled those conversations into a detailed and insightful Roadmap for Effective Deployment.
Read more about:
What separates a chatbot from a digital assistant, and why it matters.

Why financial institutions should treat digital assistants as a part of their team, not a software product.

Why you should create an onboarding, training, and development plan for your digital assistant.

How to fix the "personalization gap" in your customer's digital interactions with your institution.

How an AI-assisted channel helps accelerate digital transformation and deepen relationships.

How to select the right partner to deliver your best branded digital banker.
About Kasisto
KAI is the leading digital experience platform for the financial services industry. Kasisto's customers include J.P. Morgan, Westpac, Standard Chartered, TD, Manulife Bank, and credit unions such as Fairwinds and Excite – and many more. These financial institutions chose KAI for its proven track record of driving business results while improving customer experiences. The platform is engaging with millions of consumers worldwide, all the time, across multiple channels, in different languages, and is optimized for performance, scalability, security, and compliance. KAI is built with the deepest Conversational AI portfolio in the industry. Kasisto is headquartered in New York City, with offices in Silicon Valley and Singapore. Kasisto Singapore Pte Ltd is a wholly-owned subsidiary of Kasisto. For more information, visit kasisto.com.