Glia and Kasisto Partner to Incorporate AI into Digital Customer Service Platform
Glia, a leading provider of Digital Customer Service and Kasisto have teamed up to provide customers with a strategic mix of AI and human connection within customer support.
Our KAI-powered intelligent digital assistant has been integrated into Glia's Digital Customer Service platform, allowing financial institutions to more effectively and efficiently support customers within the digital domain. Kasisto's KAI assembles a full financial picture of each customer and proactively communicates with them using data from customers' financial and engagement history, along with scientific behavioral insights.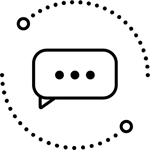 KAI comes ready with thousands of prebuilt, pretrained and preconfigured conversational interactions designed to support customers' banking needs and respond to their most frequent inquiries. The Glia platform enables institutions to meet customers where they are and communicate with them via their preferred method—including messaging, video banking and voice—while guiding them through CoBrowsing.
Chat with us and find out more about how our combined solution can help your company.
Through the Kasisto and Glia partnership, banks and credit unions can leverage the AI-powered digital assistant to conversationally respond to customer needs in the moment, making support quicker and easier for institutions, customers, and members. When the need for human support arises, the assistant seamlessly transfers interactions to a live representative through the Glia platform. The full context and history of the conversation is also passed along, eliminating the need for the customer to ever have to repeat themselves.
The KAI virtual assistant has deep financial expertise, which enables interactions to be relevant, intuitive and highly effective. Through partnering with Kasisto, we're helping financial institutions provide seamless customer support and eliminating the need for customers to ever have to re-explain themselves, a source of notable frustration and inefficiencies. We're proud to partner with leaders like Kasisto as we continue to empower institutions to reimagine how they serve customers in a digital world.
Dan Michaeli, CEO and co-founder of Glia
Kasisto & Glia team up to provide customers with a strategic mix of AI and human connection within customer support
Read the full press release