Banks Win When They Use Virtual Assistants and Intelligent Chatbots Trained to Make Them Successful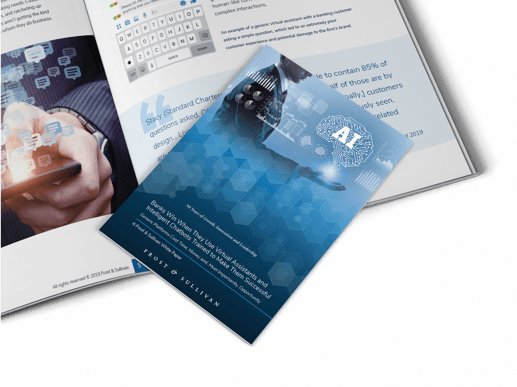 This paper outlines the need for conversational AI in financial services to maintain a competitive advantage; looks at the pros and cons of generic versus market-specific solutions; and offers data that demonstrates why firms are better off deploying tools meant specifically for them.
In a recent survey of more than 1,600 IT decision-makers, Frost & Sullivan found that artificial intelligence (AI) has been adopted by 67% of financial services companies across the globe. Primary drivers include:
Improving the quality of products/services

Increasing operating efficiencies

Driving customer engagement with the bank's digital investments.
Companies in the Finance, Banking and Insurance sector are more likely than others to deploy AI, initially to facilitate innovation for competitive advantage, lower costs and generate revenue. Almost one-quarter of firms have implemented some form of artificial intelligence company-wide and another 36% are already in the early implementation phase.
Increasingly, financial services firms are looking at conversational AI, specifically, to help them transform the customer experience. Kasisto has found that about one-third of financial services firms have deployed conversational AI and the number is quickly growing (Kasisto 2019 Sales Survey). But as they do so, banks are worried about a number of challenges, including the cost of implementation (30%), the complexity and time to develop solutions (25%) and the fact that the technology is not yet ready to address their use cases (22%). Fortunately, you can mitigate these concerns by using a conversational AI platform that is purpose-built for the financial services industry.