Lessen the Stress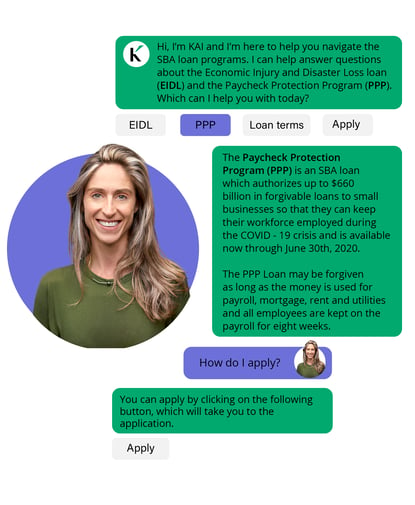 Immediate Responses to Important Questions
Millions of businesses are seeking to access the Economic Injury & Disaster Loss Loan (EIDL) and the Paycheck Protection Program (PPP) loans. Lending institutions and community banks are working hard to help their customers navigate the complicated loan application process as smoothly and effectively as possible.
But with so much uncertainty and unanswered questions related to the SBA program, many lenders and banking contact centers are being placed under immense stress to field the overwhelming amount of customer inquiries. Often leading to exorbitant wait times and exhausted banking staff.
Kasisto's KAI, the leading digital experience platform for the financial services industry, can answer SBA related questions in seconds, without tying up banking staff or subjecting a client to extensive hold times.

Educate your customers
KAI is able to provide immediate responses to important questions about eligibility, qualification, required documents, loan definitions and many other frequently asked questions all by delivering this information through more human-like, digital conversations, via an award winning virtual assistant, 24 hours a day, 7 days a week.
Your customers are busy trying to weather this crisis- KAI is here to help you get their questions answered quickly and efficiently, while alleviating undue stress on your banking staff and call center agents.