The Financial Brand
On-Demand Webinar
Your Employee Assisted Service Channels Have a New Teammate: Conversational AI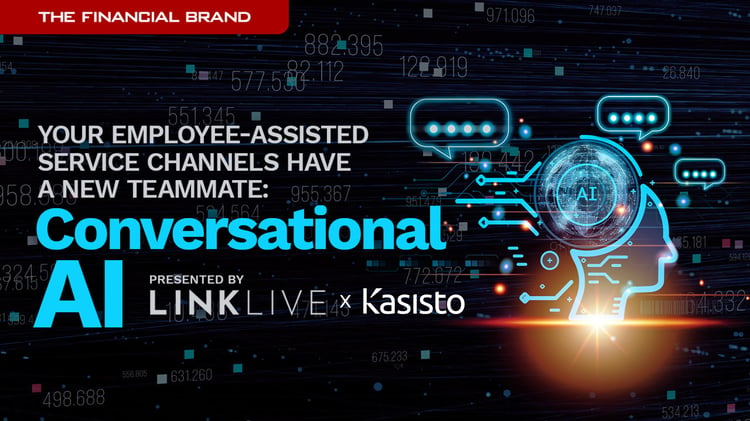 On-Demand Webinar
How do financial institutions deliver good customer engagement when struggling with poor employee engagement?
In this on-demand session from LinkLive and Kasisto—attendees will learn how to get time back by leveraging modern, conversational banking and digital engagement solutions.


Key Takeaways:
Efficiency and effectiveness—the benefit of end-to-end customer experiences and service

Engagement is the key to success, and experience essential to engagement

AI-powered conversational banking is a game-changer, bridging the gap between physical and virtual worlds to provide an assisted channel that delivers

Learn how to onboard an intelligent digital assistant (IDA) and CCaaS without exceeding your budget and your timeline
About Kasisto
KAI is the leading digital experience platform for the financial services industry. Kasisto's customers include J.P. Morgan, Westpac, Standard Chartered, TD, and Nedbank, and credit unions such as Meriwest and Valley Isle – and many more. These financial institutions chose KAI for its proven track record in driving business growth and improving customer experiences. The platform is engaging with millions of consumers around the world, all the time, across multiple channels, in different languages, and is optimized for performance, scalability, security, and compliance. KAI is built with the deepest conversational AI portfolio in the financial industry and is tightly integrated into the fintech ecosystem through partnerships with proven technology providers such as FIS, NCR, Q2 ,and others. Kasisto is headquartered in New York City, with offices in Silicon Valley and Singapore. Kasisto Singapore Pte Ltd is a wholly owned subsidiary of Kasisto.